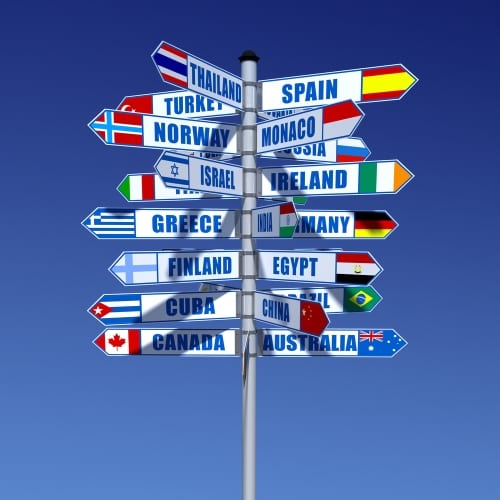 There are hundreds of thousands of Brits jetting off around the world in pursuit of bigger and better things, but where precisely are they going? We have put together the top 10 countries that people choose to emigrate to and give details as to what make us UK residents pack our bags!
1. Australia
Australia, also known as the land down under, has many advantages that appeals to people considering emigrating. It is the sixth largest country in the world! What's so great about it? With only two people per square kilometre, Australia has the lowest population density in the world. It also has over 10,000 beaches, incredible scenery and offers a whimsical outdoor way of life. Australia has a low crime rate and a thriving economy with more than 100,000 jobs!
When it comes to thinking about immigrating to Australia, you will not be perplexed in seeing why it has always been one of the most desired destinations for expats. Having a fantastic year-round climate (even the coolest state, Tasmania, enjoys an average annual temperature of a 16oC), a world-renowned for having a laid-back, outdoors-oriented way of life and some of the finest beaches, it's rational to say that Australia has come a long way since its infamous beginnings as a British convict colony – when it was labelled by its early settlers as 'hell on earth'.
If you are looking to work in Australia and retirement is a way off for you as of yet, then there skills needed especially for those with expertise in civil engineers, mining and mechanical engineers, aviation engineers, healthcare professionals of all kinds including midwives, surgeons and pharmacists are all in demand in Australia. In concerns to visa requirements the General Skilled Migration (GSM) route is available to individuals wanting to migrate to Australia based on occupational skills. This category includes the subclass 175 and offers the opportunity for permanent residence. However, you should avoid Australia if you prefer cooler weather, hate snakes and beaches and need constant excitement. Some have described Australia as over-regulated and boring, but if this accounts for the low crime rate, it can't be all that bad!
2. USA
The United States attracts leaders, intellectuals and business-minded people from around the world, the USA has created its success through immigration. Emigrants who settle in the USA will be living in one of the world's leading economic and military powers, supporting more than 300 million people in 50 distinct states and in three time zones.
Approximately a million people immigrate annually to America, which leaves the arrival of foreigners as the leading cause of the country's population growth.
America has such an immense land area that makes it difficult to generalise topics of expat consideration – like cost of living, health care, climate and lifestyle – but there are undoubtedly some apparent advantages to moving to the 'Land of Opportunity'.
Benefits of living in the US include high wages and potential rewards for those with a bit of do-it-alone pioneer spirit, a safe setting for the families, and efficient infrastructure that brands structures in education and healthcare in the USA as some of the top ranking in the world – but only for those who can afford them.
As a disadvantage, the USA provides limited aid for those in need of financial support. In addition, as a consequence of the global economic recession, rivalry for work in the USA has been significantly more prevalent. In spite of this expats are notorious for coming to the US with ambition and new concepts, which is highly valued in the economy – there is sufficient opportunity to make a mark and live a thriving life-style.
3. Canada

A 2009 study of the most 'liveable' places in the world ranked many Canadian cities in the top ten. Canada is successfully getting out of the recession and despite a slight rise in unemployment figures, immigration levels have remained more or less the same. What attracts so many people is the great lifestyle prospects, such as, exceptional healthcare and education, a low crime rate, working democracy and approachable people. Canada also has some of the most magnificent landscapes in the world and the air and water quality are extremely high.
Though, you should avoid it if you don't like the cold or ice hockey. Canada is also highly regulated with high taxes and a high cost of living, which are some of the things that might get you down.
Workers that are in high demand are those with the skills of biologists, scientists, architects, chefs, plumbers, electricians, nurses, dentists and social workers. If your occupation falls into this category your applications for a visa will be a breeze. Applicants for permanent residency to Canada as federal skilled workers enjoy a simplified application process. Only one form and fee is required to guarantee you a place in the processing queue. Points are awarded based on education, age, work experience, adaptability, English or French skills and arranged employment.
4. Spain

Spain remains top of the list as a retirement hotspot for Brits who want to enjoy some sun in their sunset years, and it's not hard to see why. Spain's allure is not limited to pensioners. It consistently places as the second most popular end points for British of all generations. Let's face fact, a bountiful amount of sunshine is always more tempting than never-ending rain. The sun also brings more opportunities to enjoy the Great Outdoors.
There are copious amounts of understated towns and untouched stretches of coast to be explored. There is also an astonishing variety of landscapes to explore: from the wilds of Galicia, to the green hills and forests of the Basque country, and the majestic Picos de Europa or national parks.
Spain has become noticeably more expensive, especially since the euro came into effect in 2002. Nevertheless, prices for property, petrol, food and alcohol – to name just a few items – are still lower than you find in the UK. Regardless of price, the food and wine are worth savouring.
Spain's health care system was rated seventh in the world by the World Health Organization, you will be safe in the knowledge that you are in safe hands. Spain is an enormous country, and its customs and way of life vary widely from region to region. Nevertheless, there are some central tenets that make life in Spain attractive. For example, fiestas remain to be an important piece of the Spanish timetable. At a more personal level, Spanish families tend to be close-knit, with plenty of contact across the generations. Then there is the well-known Spanish pace of life. While the speed may be picking up in the cities, Spain in general continues a more stress-free approach to timekeeping and the dictates of the clock than we do in Britain.
5. New Zealand
While Britain share a lot of history and many traditions, New Zealand is a much greener and less crowded country than the UK. It's easy to do things outdoors and you'll have time for your own interests. It's a great place for children, with so many recreational activities and a world-class education system that is largely free.
The pace is relatively relaxed in New Zealand, the scenery has plenty to offer – glorious sandy beaches, great native forests, mountains, lakes, rivers and fjords. If you move to New Zealand, you will have time to explore the lot (as well as experiencing the unique New Zealand culture). You will have easy access to quality education. New Zealand 15-year olds scored ahead of those in the UK on reading, maths and science in the United Nation's Human Development Report 2013. In contrast to the UK, the vast majority of New Zealand's top quality primary and secondary schools are free. All eight of New Zealand's universities appeared in the top 500 QS World University Rankings 2013/14 (50% of them in the top 250).
In this beautiful country you can enjoy the weather, because the climate is generally warm with dry summers and fairly mild, wet winters. While the UK's sunniest region (southern England) gets around 1750 sunshine hours a year, New Zealand's three major cities all get over 2,000 hours a year – some spots get even more (like Nelson, with 2,400 sunshine hours).
Overall, it'll probably cost you the same to live in New Zealand as it does to live in the UK. However, immigrating to New Zealand is probably one of the best choices you could make for your family. Along with affordable, quality education, excellent healthcare and public facilities. Your children will be able to get closer to nature and enjoy sports, recreation and adventure activities that are just that much harder to access in the UK.
6. South Africa
In spite of its stormy political history, South Africa has gradually become a great destination for expats, and Cape Town is unquestionably one of the most popular cities to live in. But, why do people want to up and move to South Africa? Because, South Africa's has a climate that would make any Brit think twice about staying in the UK, such as, great beaches, the 3rd best drinking water in the world, fantastic lifestyle opportunities, generous locals, an expanding economy and reasonable property prices. It also has beautiful landscapes and scenery – mountains, beaches, forests and deserts!
If you are paranoid about crime, then you should dodge South Africa. South Africa's crime rates are somewhat high and living in South Africa means you live rather cautiously and you will learn which zones and circumstances to avoid. Those of you who are project managers, engineers, scientists and IT professional will have no problem landing a job within your industry, as these skills that are in shortage. Applying for a work permit allows you to work in the country and once you are in South Africa working, you can apply for permanent residency.
7. Ireland
Ireland is a small country with an enormous amount to offer; not least of which is a rich culture, diverse artistic talent and lively people. Accommodation in Ireland is available for any budget depending on how much you can afford per week or month, you will be able to find it.
In regards to safety in Ireland, it is very safe. Guns are illegal unless you own a farm, and then you can only obtain a gun suitable for a farm. Just in case you made need it, healthcare in Ireland is accessible, both private and public healthcare. The public healthcare system is funded by general taxes. However, the waiting lists for medical procedures can be as long as a few weeks. However, if you need to go to the A&E (ER) for something non-life-threatening, expect a delay you've not experienced before. A standard wait in the A&E before being treated is going to be between 10 and 14 hours.
8. Germany
Germany is a contemporary, multicultural and pioneering country and those making the switch to expat life in this country should discover that it is fairly simple. With its strong economy, transnational business hubs and remarkably high quality of life, Germany has a common expat destination for a long period of time, as a matter of fact around 20% of the country's residents has immigrant roots. One of the biggest stumbling blocks to tackle for those wanting to move to Germany are the severe immigration regulations that are frequently tightened as a safety measure to protect German employees.
However, expats with expertise in areas such as business, science and technology will have many of job prospects in the country, as corporations and the government are actively searching for competent personnel to take up positions in these fields. New arrivals in Germany will find that the overall standard of infrastructure is exceptional and that there are plenty of reasonably priced housing possibilities to choose from. The majority of expats living in Germany choose to rent properties rather than purchase it, but the process of buying a house is quite straightforward, even for foreign citizens.
Germany has an increasing ethos concentrated on healthy-living and expats will find that the countries healthcare facilities are excellent. Public and private hospitals in Germany are equivalent to that of international standards. In addition, expats with children will be delighted with the standard of education in Germany is of an extremely high quality and there are a diversity of different options available, as well as an selection of different international schools situated all over the country.
The cost of living in Germany is rather high, but near average amongst Western European countries. Although, life in the urban areas will be sizeably more expensive than in rural areas. Some expats may also find that life in Germany is quite rigid. However, many people are willing to accept its stern rules in return for safety and a first-rate standards of living.
9. Italy
One of the most notable things about Italy is that its residents are extremely social. Only floods and blizzards can keep them indoors. Wherever you live in Italy, you will be immersed by incredible heritage and natural splendour. The Italians have the most amazing supermarkets. Even the smallest shop in the remotest town has an unbelievable spread of fruit, vegetables, meat and cheese. The things you would presume to see in your gourmet deli back home are cheap and abundant in Italy and the quality is incomparable.
However, Italy has limited resources, so, while you pay less for things 'Made in Italy', you pay more for everything they have to import. Resources like fuel, gas and electricity are expensive and limited.
The Italians take education seriously, so whether your little ones speak Italian or not, they're assured a good education. In Italy, kids start learning to read and write at three. Public education is free and students get a well-rounded education in the sciences, arts and history from a young age.
The chances of finding employment might be slim, but you can rest assured that you are in good hands when it comes to the Italian healthcare. The country's public hospitals are particularly good and you can effortlessly get access to doctors, specialists and dentists in even the most rural areas. If that is not enough it is also free, or outrageously cheap, for EU citizens.
10. Cyprus
Immigrating to Cyprus offers a distinctive Mediterranean experience. The country has many cultural influences, having been part of the Roman Empire, a British colony and being divided between the North and South following the Turkish invasion. While customs run strong through the island's sun-kissed villages, Cyprus is warm and friendly to expats.

However, getting on with locals might be tough for expats wanting to work in Cyprus. The mentality of competition and uncertainty in the present, struggling economy may affect how natives interact with foreigners. After the 2013 banking crisis, insecurity and anxiety runs high between those working in Cyprus and those desiring to work there. Employment prospects are not as ample as they used to be and investment risk has gone through the roof. Although, the infrastructure in Cyprus has advanced significantly over the last 10 years, but expats should keep in mind that it still functions at a relaxed pace.
When it comes to dining and entertainment, however, Cypriots are as passionate as they come. The cuisine caters for all types of tastes. Traditional food is strongly connected to that of Greece and Turkey, consisting of slow roasts, stews, kebabs and assorted appetisers commonly known as mezze. No matter what the age of the expat, they will find most of their desires and requirements met, being able to experience amazing summers on the gorgeous beaches, drives through the mountains and winding forests, or visiting the island's various monuments and ancient monasteries. The Mediterranean island interests many expats searching for somewhere to retire or start a new chapter.